Day three of RIPE 74 kicked off with 607 attendees checked in and a full agenda of working group sessions.
In the Address Policy Working Group (APWG), Gert Doering from SpaceNet AG was reconfirmed for another term as Co-chair. Marco Schmidt, RIPE NCC, gave an update on the RIPE NCC's examination of obsolete references in RIPE Policy Documents. There were differing views on whether a lightweight approach should be used, or whether this should follow the PDP. The WG agreed to discuss this further on the mailing list.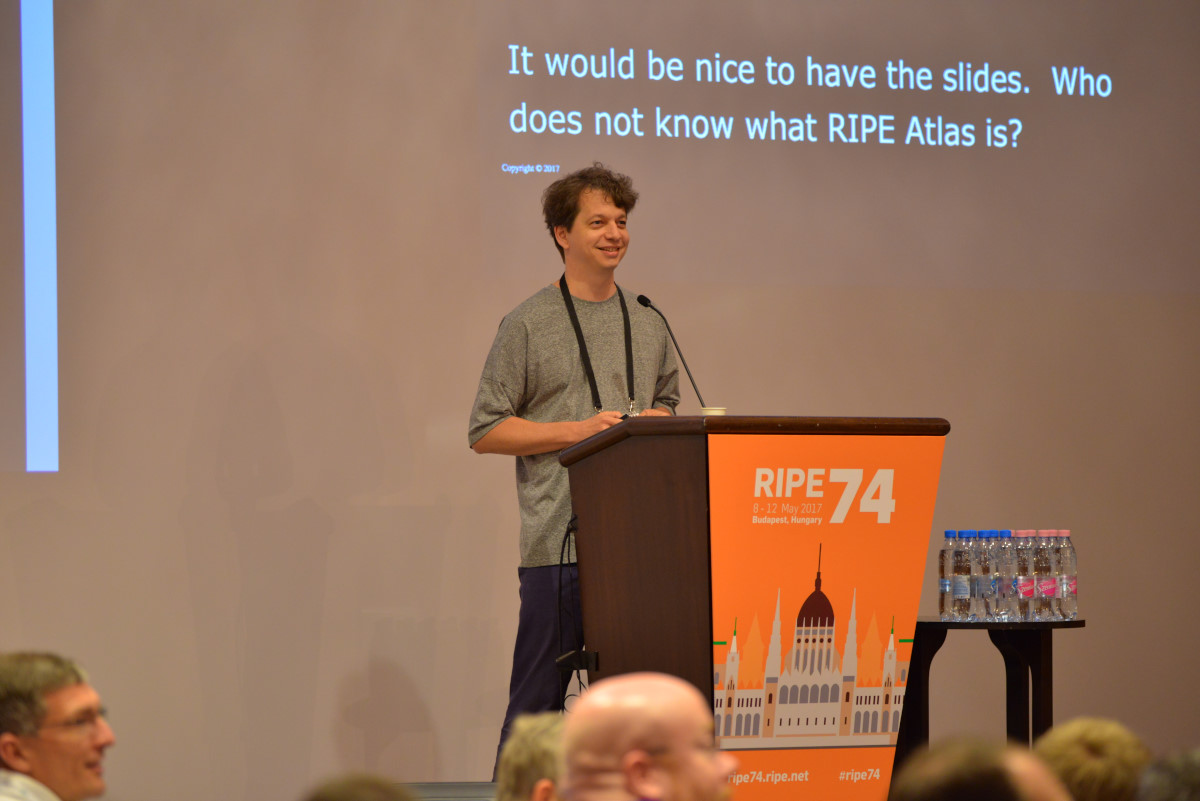 After a break, the second APWG session continued the discussion on Elvis Velea's, V4Escrow, proposal to include legacy resources in the transfer statistics. This was followed by a proposal from Maximilian Wilhelm, Universität Paderborn, to clarify the definition of sub-assignment in the IPv6 PI policies. Finally, in the open discussion period, Randy Bush of the Internet Initiative Japan proposed they think about moving to a smaller allocation size to preserve the RIPE NCC's remaining IPv4 addresses for new entrants.
Over in the Connect WG, Christian Urricariet, Finisar, gave input into the latest trends in DC Optics and spoke about the shortage of 100G transceivers. Job Snijders, NTT Communications, presented on the need to have a standard format for the communication of BGP shutdown events and Zbynek Pospichal shared a new way of mitigating DDoS attacks in IXPs.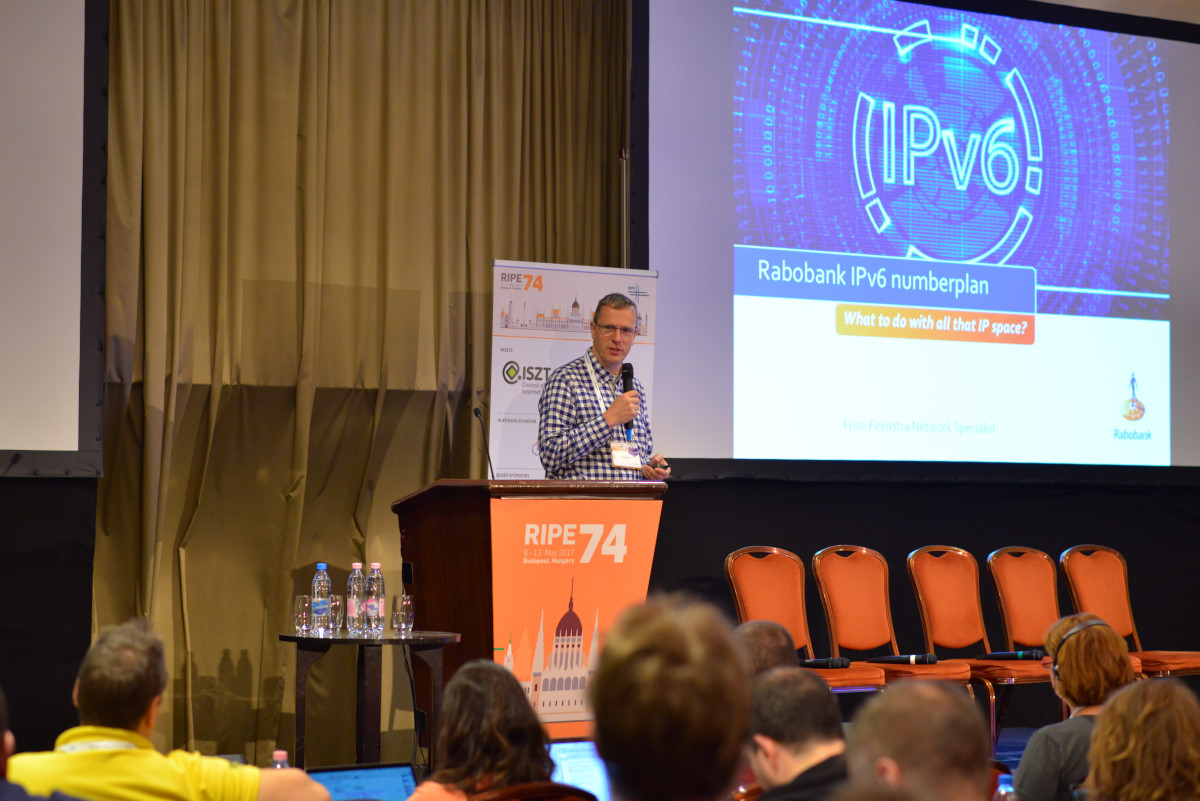 After lunch in the IPv6 WG, Enno Rey from ERNW presented on experiments on the IPv6 source address selection mechanism specified in RFC 6724. During the discussion, questions were raised about the mechanism's performance in dealing with broken paths, multiple source addresses, and instances of inconsistent address selection in relation to rule 5.5 of the RFC 6724. Friso Feenstra, Rabobank, gave a brief presentation on Rabobank's IPv6 addressing plan for end devices and network infrastructure. A panel discussed IPv6 deployment for enterprises. The panel agreed that most difficulties come from individuals and management structures, but also pointed to complications that arise in dealing with specific applications and specialist software.
The MAT Working Group session included an overview of fast.com, Netflix's ISP speed index, which provides users with their ISP's download speed of Netflix's streaming service. Leslie Daigle, Thinking Cat Enterprises, described her project NOMA, which attempts to measure the user's experience of the Internet and encourages more network operators to instrument their networks to make these kinds of measurements possible. Robert Kisteleki from the RIPE NCC shared the latest RIPE Atlas news and Massimo Candela, also RIPE NCC, went into more detail about TraceMON, which is RIPE Atlas's latest tool which is a web application that lets users visualise multi-source traceroutes. Alexander Isavnin wrapped up the session with an overview of three recent Russian hackathons that took place within the past year.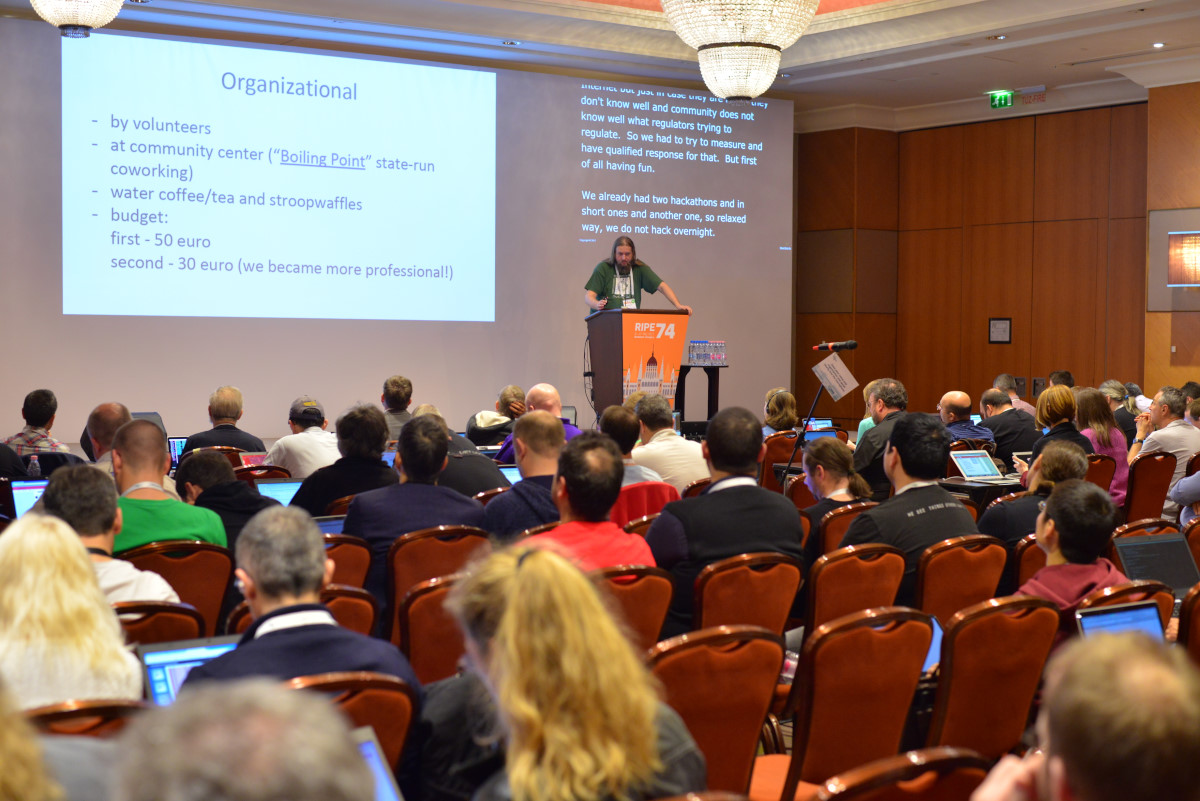 The RIPE NCC Services WG was held during the last session of the day. Axel Pawlik, RIPE NCC Managing Director, gave his RIPE NCC Update – there were no big surprises and positive figures were reported. The RIPE NCC's focus for the coming period is on ensuring the accuracy of the RIPE Registry, accountability, efficiency and engagement with stakeholders. Dmitry Kohmanyuk, Hostmaster Ltd, shared his views on the recent decision to move to one single ENOG meeting each year. Paul Rendek, RIPE NCC's Director of External Relations, delved into all aspects of RIPE NCC outreach and engagement in the RIPE NCC service region, explaining that the RIPE NCC's membership is evolving and that a balance in outreach efforts must be found. There was a discussion from attendees on where efforts should be focused, appreciation for the work done so far and pleas from several attendees to focus on diversifying outreach throughout the RIPE NCC service region. Next on the agenda was a technical update from RIPE NCC's CTO Kaveh Ranjbar and an update from RIPE NCC's Training Services Manager, Rumy Kanis.